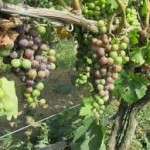 In today's Gospel Our Lord invites us to imagine a group of men given the opportunity of a lifetime, both professionally and personally: not only a good place to live, but a great way to make a living. Imagine a business at a good location, with an abundant clientele, a great lease, and the job of making a lot of people happy (the vineyard is for producing wine, with throughout Scripture symbolizes joy). If that weren't enough, the men running the business also have a wonderful place to live and a great landlord. Any outside observer would say that professionally and personally the owner has been very good to his tenants, even going beyond what a tenant would expect or deserve.
All the owner asks in return is a share of the joy that he hoped the tenants would produce. This is where the mystery of sin enters: mystery in the sense of sin, ultimately, following no logic but its own, a twisted logic that bends everything around it and denies greater truths eventually at its own expense. The tenants start beating up the people coming to collect the owner's fair share and leaving him empty handed. There's no remorse: gradually they start killing them too. And the owner shows a kindness that the tenants, to any outside observer, do not deserve. He keeps giving them opportunities until one day he gives them the greatest and most definitive opportunity: he sends the heir himself, a reminder that he is the owner and they are the tenants, and an extension of his very self. In their twisted logic they convince themselves that by eliminating the heir any trace of ownership will die with the owner, and he'll also stop bothering them (the son was the last one he could send, as the parable narrates). The chief priests, scribes, and elders pronounce judgment on this "theoretical" case and their own words condemn what they themselves are doing.
Our Lord is the cornerstone. You can't even speak of having a structure, having a building, without a cornerstone–it joins two walls together. Many "tenants" who've received so much kindness, personally and professionally, from God want to monopolize the joy they could give to God hand others, and as a result impoverish any joy they could really give. They deny something fundamental, something structural: that the owner and his heir are what make their life possible, whether they acknowledge it or not, and eventually second chances (and third, and fourth, etc.) are exhausted and mercy has to give way to justice. Let's contemplate today the kindness of God in our lives and ask him to help us to see how we can work with him to bring joy to him, to others, and to ourselves.
Readings: Tobit 1:3, 2:1a–8; Psalm 112:1b–6; Mark 12:1–12.