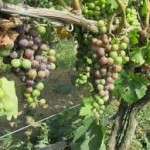 Our Lord reminds us in today's Gospel that the Christian life, like a cultivated vine, depends on the trunk in order to grow and develop instead of withering on the vine. Part of this involves imitating Christ and following his teachings: he reminds us today of the need to have his word remain in us, but also the need for us to remain in him and he in us, a constant flow of divine life. The cultivated vine in today's Gospel represents the communion of life with God that we must maintain in love. When we stop loving God and loving others this vital flow is cut off, and if everything at first seems the same, soon enough our life starts to wither.
A sacramental life is what fuels a Christian life. Through the sacraments we establish, maintain, and, when necessary, restore this vital communion with God. We're more fortunate than plants: sometimes they are beyond a little water in order to perk back up. It's never too late to return to a sacramental life. It's true that someone cut off from Christ in this way for an extended period of time has a long road ahead to make amends and overcome the vices that can become very entrenched when practiced for a long time, but the vital flow is restored: through our love we reconnect to God's love, in faith we know the vital flow of grace is opened again to us, and in hope we know that as long as we keep striving to change and remain in Christ we will succeed with his help.
Let's take a moment and examine our sacramental life today. Are we going to the Eucharist at least every Sunday and Holy Day Obligation? Are we going to Confession when our conscience tells us something is wrong? It's never too late to reconnect with God through the sacraments as the best way to help us grow as Christians.
Readings: Acts 15:1–6; Psalm 122:1–5; John 15:4a, 5b; John 15:1–8. For another reflection on today's Gospel, see 5th Sunday of Easter, Cycle B.